Healing Yourself with Your Own Fat Cells
This month I'm introducing a brand new way to heal yourself: with your own fat. I know, I know, this sounds like science fiction but it's been tested and proven to work, and it can work for you.
How Fat Can Heal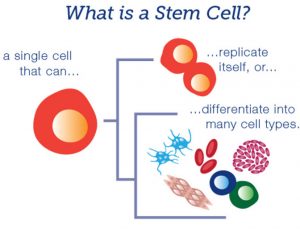 OK, let's talk about how fat is used to regenerate tissues. We're talking about stem cells here. No, not stem cells from someone else—stem cells from you; from your fat. When they're injected, these stem cells perform two functions:
They quiet inflammation
They "change" into the type of cells needed by the area in which they're injected
The Benefits of Stem Cell Therapy
Local anesthesia
Total knee replacement is most often performed under general anesthesia. Some patients cannot tolerate general anesthesia due to their health and/or age. Stem cell injections eliminate this problem.
No hospital stay
Obviously, a total knee replacement requires hospitalization followed by physical therapy. With the Regeneris knee protocol, you'll go home shortly after your treatment.
Rapid Recovery
Total knee replacement is an extensive and painful procedure, requiring months to see relief post-op with hours spent in physical therapy to restore joint mobility. The Regeneris knee protocol keeps you away from the most rigorous physical activity only for two weeks, with gentle stretching allowed almost immediately.
Results
A typical total knee replacement will last between 5 and 15 years, meaning that many patients must undergo a second procedure to remove the worn joint and replace it with a new one. The Regeneris knee protocol will also need to be repeated but, again, without the pain, increased risks or recovery time needed by a total knee replacement.
 How Are Stem Cells Harvested?
Fat is removed via liposuction from an area where you can spare it—your hips, thighs, belly or bottom. We then put that fat into a centrifuge, which spins at extremely high speeds (imagine a medical blender!) to separate the fat cells from the stem cells. The cells are washed and then injected into the intended area(s). Platelets, which were also removed, are added to the stem cells to improve their function.
Where Can Stem Cells be Injected?
Although stem cells can be injected nearly anywhere (including the hands and face), we're going to first help those who need it the most: men and women with osteoarthritis in their knees.
The traditional "first" treatment for arthritis in the knee joint has been steroid injections and/or joint lubricants. If that doesn't help the patient, the go-to next step is surgery: removing the knee joint and replacing it with a metal and plastic joint. This is followed by physical therapy and—to be honest—lots of discomfort. With the refinement of stem cell therapy, a patient's natural joint is restored without painful surgery or repeated steroid injections. It's a very natural approach to repair and rebuild the knee joints for improved mobility and range of motion.
How Successful is Stem Cell Therapy?
This isn't pie-in-the-sky thinking: stem cell therapy is being done all over the world, although we're the only practice in Ohio, Kentucky and Indiana to offer a particular method, called Regeneris.
What Should You Do Now?
Call my office to schedule a no-obligation consultation. I'll review the protocol and together we'll decide if this new technology, that's been proven effective worldwide, is right for you.
Ask A Question