The Surgical Facelift: For More Dramatic Improvement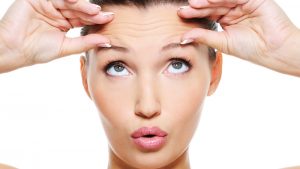 If you have jowls around your jawline, drooping in your cheeks and sagging in your neck, a surgical facelift may be the right option for you. Unlike the faster "liquid facelift," sometimes referred to as a "Lunchtime Facelift", results from a surgical facelift last much longer because the facial muscles are lifted and tightened into a more youthful position and excess, sagging skin is removed. While Botox® and dermal fillers are powerful actors in anti-aging, they cannot lift the muscles underneath the skin like a surgical facelift does and these agents cannot remove the extra, sagging skin that comes with aging.
What is a Surgical Facelift?
A surgical facelift actually "lifts" drooping facial features that result from aging. Both the muscles beneath the skin and the skin itself are vertically lifted into their previous, more youthful positions. Because a facelift is surgery, incisions are made to accommodate the tightening of the muscles and removal of the extra skin. The incisions in the MACS facelift, my preferred technique, are made in front of the ear. This facelift is often called a short-scar facelift because fewer scars result from this technique, even though the amount of improvement is the same.
How Much Time Does a Facelift Take?
Once you arrive at my Dayton cosmetic surgery office, I will "mark" your face with a special pen. After anesthesia has been placed, incisions are carefully made and the skin is lifted up to allow me access to the tissues and muscle beneath. Once the muscle is tightened, the skin is re-draped, excess removed, and tiny sutures are placed. A facelift usually takes about 3 hours to perform.
Keep in mind that a facelift doesn't include any treatment to the eyes, so many of my Dayton facelift patients opt to have a blepharoplasty (eye lift) with their facelift for more complete rejuvenation. Furthermore, some patients benefit from a little "plumping" after a facelift, in the form of dermal fillers like Juvéderm®, AlloDerm®, Restylane® or Fat Transfer. If you add any of these additional surgeries or injectables, the procedure will take a bit longer.
What are the Risks of a Facelift?
The risks of a facelift are generally limited to the same risks as any surgery: problems with anesthesia or post-op infection. Patients over the age of 50 are screened with EKG and other tests, and a letter from their physician is requested to rule out concerns due to age. Although I rarely must turn down a patient for a facelift, an alternative is a Lunchtime Lift, described elsewhere in this blog.
What is the Recovery Time for a Facelift?
My Dayton facelift patients are often surprised at how easy it is to recover after a facelift. Other than swelling and bruising, there really isn't a lot of discomfort or pain. Applying ice packs will reduce the swelling, as will sleeping in a recliner the first few nights after your procedure.
If you have concerns about facial aging, schedule an appointment with me. We'll evaluate your facial aging pattern and I'll give you all the options that I think will meet your goals!